Liberty Bell "L.B." MacGuff is Juno's five-year-old half-sister. She is portrayed by Sierra Pitkin.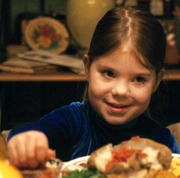 Appearance
[
]
Liberty Bell is a short white female. She is thin, but not underweight. She has blue eyes and straight, medium-length, light brown hair. She seems to take after her mother.
Personality
[
]
Liberty Bell is playful, but not particularly intelligent. She likes bacon. She does ice skating, which she isn't great at. Liberty Bell seems to have a bit of a mischevious streak, as shown when her father warns her not to take any more bacon and she grins.
Known Family
[
]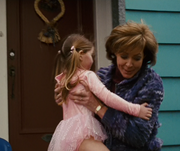 Bio
[
]
Liberty Bell is the daughter of Mac MacGuff and his second wife, Bren. She was born eleven years after her half-sister, Juno. She seems to have a normal life, despite her half-sister's unplanned pregnancy. Not very much is known about young Liberty Bell, otherwise.
Trivia
[
]
She is implied to be asthmatic.