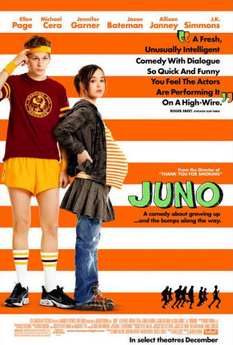 Welcome to Juno Movie Wiki

[

]
Juno Movie Wiki is a collaborative website about the hit 2007 movie, Juno 👩
Site Rules
[
]
No flaming.
No cyberbullying.
No trolling.
No harassment.
No vandalism.
No spamming.
No sockpuppeting (using multiple accounts/IPs deceptively and/or disruptively; you may have one extra account as a back-up in case something happened to your current one, but that's it), meatpuppeting (getting users from other sites to come and support you), or flamepuppeting (asking a user to come to this site and flame another user for you).
No personal information, e.g. your e-mail address, your real name, the city you live in.
No pictures of yourself, your friends, your family members, etc. Basically, no real people who aren't actors from the Juno film, or celebrities. Rule of thumb: if the person isn't famous enough to be on the cover of a magazine, they aren't a celebrity.
No pornography.
No swearing.
No sexism, homophobia, or racism.
No posts that otherwise attack any individual, culture, country, religion, etc.
No articles that don't relate to Juno.
When you've been banned, don't log out and beg an admin to unban you, as this is a form of sockpuppeting.
Admins, just because you don't like someone doesn't mean you can ban them when they haven't actually broken the rules.
List of Staff
[
]
Sparrowsong: Admin, bureaucrat, rollbacker, founder of the Wiki.
News
[
]
June 27, 2010 - The Wiki is founded! Sparrowsong 18:39, June 27, 2010 (UTC)
Poll
[
]
Latest activity
[
]